Team / Aurelia Mora
Aurelia Mora
Program Manager, Capacity Building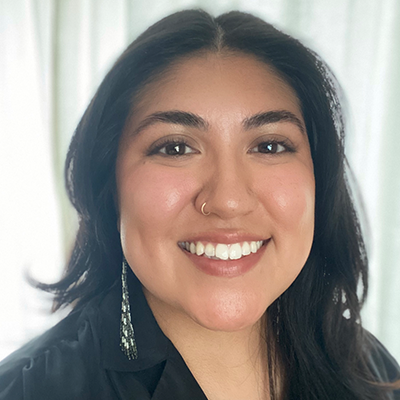 I believe that all capacity-building work should function as a reciprocal relationship in which foundation partners can share resources and offer organizational-and-leadership development workshops while also uplifting the knowledge and expertise of community partners and organizers. With the privileges I hold in this position, I hope to create spaces for learning, healing, and community building to continue growing and elevating the power of community to lead transformational change throughout Los Angeles.
As Program Manager of Capacity Building at Liberty Hill, Aurelia works in partnership and collaboration with community-based partners, organizations, and consultants to develop a broad capacity-building strategy that is responsive and relevant to the needs, interests, and focus areas of our community partners.
She joined the Liberty Hill Foundation team in the Fall of 2018 as an AmeriCorp Public Allies Fellow. During this time, Aurelia provided broad administrative and program support to help advance the Agenda for a Just Future. Since then, Aurelia has supported the team in various capacities and has worked closely with members of the Youth and Transformative Justice team in the development of the Ready to Rise public-private partnership and its capacity-building component.
As a second-generation Chicana in Los Angeles, Aurelia has been witness to and felt the impacts of gentrification and the criminalization and systemic oppression of BIPOC communities. Prior to her work with Liberty Hill, Aurelia primarily worked within higher education as a transfer student advocate and peer coordinator at UC Berkeley where she earned her BA in Ethnic Studies. She most recently earned her Master in Urban and Regional Planning with a concentration in Transportation Policy and Planning from the UCLA Luskin School of Public Affairs. Through planning and social sciences lenses, Aurelia is dedicated to centering the histories and voices of BIPOC communities.