Team / Soma Sharan
Soma Sharan
Philanthropy Officer, Donor Advised Funds & Giving Circles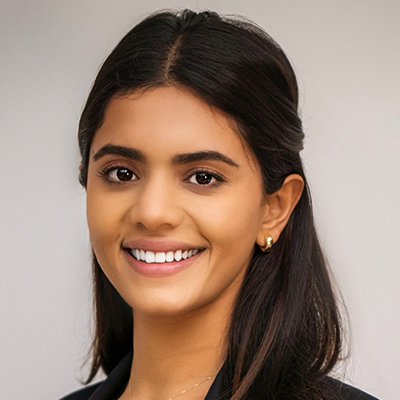 From a very young age, the values of selfless service defined how I wanted to live my life. I dedicated the majority of my time to various international causes, and then I found Liberty Hill. Through "Change, Not Charity," we are building a just city alongside the most marginalized voices in our community, amplifying these voices that are often left unheard.
Soma Sharan is the Philanthropy Officer at Liberty Hill Foundation. Soma is responsible for supporting Donor Advised Fund holders, Giving Circles and Collective Action Fund chairs and their members. She ensures long-term sustainability by building a community of engaged donor activists who are contributing at least $1,200 annually to support Liberty Hill's Mission.

Soma has been with Liberty Hill for four years. During her tenure, she has administered the grant making process for Donor Advised Funds and Giving Circles, in addition to preparing dockets and maintaining giving circle membership records. She has executed annual donor renewal strategies, maintained donor tracks, performed prospect research and lead generation. Soma is currently enrolled in Blackbaud University and working toward a Chartered Advisor in Philanthropy Certification.

Soma was found abandoned on a roadside in India at two days old. She was raised at an orphanage called Sri Ram Ashram in Haridwar, India. At 10 years old, she had the opportunity to complete her education at Mount Madonna School in Santa Cruz, California, where she graduated at the top of her class.

Soma is the recipient of the prestigious Bill and Melinda Gates Millennium Scholarship. She completed her undergraduate degree at UCLA in 2015 and moved to Washington D.C. to intern at Vital Voices Global Partnership founded by former Secretary of State Madeline Albright and former Secretary of State Hilary Rodham Clinton.  As the Innovations and Strategic Investments intern, Soma worked with women leaders around the world, equipping them with toolkits to raise the visibility of their organizations.

Soma has spent most of her life centered around women-focused organizations. She is proud to support organizations including the Tahirih Justice Center (United States), Kakenya's Dream (Kenya), and Botashabelo Aids Orphanage (South Africa).

Soma is a self-taught web designer and has created websites for orphanages in India and Zimbabwe. She is a member of the UN Women LA Chapter, APIA Scholars, the AllBright Collective, the XX Fund, WGirls, and the Female Founder Collective. Soma proudly serves on the board of a private family foundation, the Sri Rama Foundation, which supports the orphanage where she grew up.

In memory of her late mother, she established the Her Future Fund, which provides scholarships for girls living in remote parts of the world, to receive a primary, secondary and higher education.