Susan Genco and Mitch Kamin
Founders Award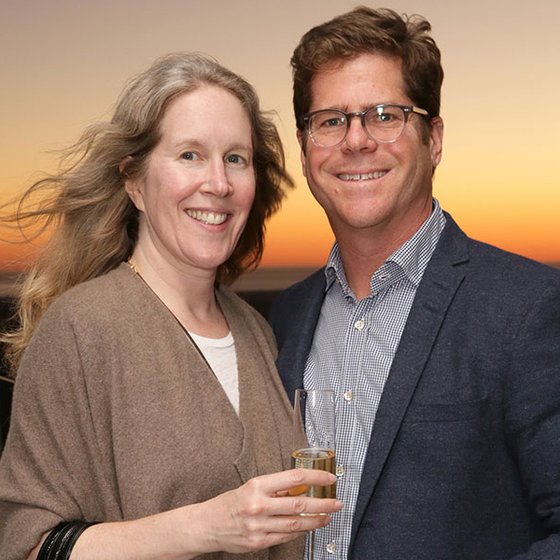 Liberty Hill Foundation is pleased to present the Founders Award to Susan Genco and Mitch Kamin. Susan and Mitch embody the qualities of our founders as exemplified by their work to make Los Angeles a city of justice, access and equality. They have been loyal members of the Liberty Hill family for many years, contributing to grantmaking funds, founding giving circles and serving on the foundation's board of directors.
Susan and Mitch met in law school, where they pursued their passions of music and civil rights and – in this unlikely setting – discovered their passion for each other while competing together on a moot court team. Today, Susan is Executive Vice President of Global Music Rights, a performing rights organization dedicated to protecting the rights of songwriters. Previously she was Senior Vice President with Guitar Hero and Warner Bros. Records Inc. She began her career at Arista Records with the legendary Clive Davis. An adjunct professor at UCLA School of Law, Susan teaches "Music and the Law." Susan was named in Billboard Magazine as one of the 100 Most Powerful Women Executives in the Music Industry.
Mitch is a Partner with Covington & Burling LLP, an international law firm, where he represents media, entertainment and other companies in complex commercial litigation. He is a Vice Chair of the firm's Public Service Committee, where he coordinates and promotes its extensive pro bono program. Before returning to private practice in 2010, he served for more than seven years as President/CEO of Bet Tzedek Legal Services, one of the leading nonprofit legal organizations in the nation. Mitch began his legal career as a public interest attorney with the Neighbor Defender Service of Harlem and the NAACP Legal Defense and Educational Fund.
Susan and Mitch are philanthropists who live into Liberty Hill's motto, "Change, Not Charity". They demand that their contributions promote real, tangible change for people who need it most. Since moving from Susan's beloved New York back to Mitch's childhood home, their community engagement is extensive, woven deep into the fabric of L.A.'s civic life.
Mitch currently serves on the board of the Los Angeles Homeless Services Authority, dedicated to supporting, creating and sustaining solutions to homelessness in Los Angeles County. He previously chaired the Board of Commissioners for the Housing Authority of Los Angeles, providing public housing and rental assistance for thousands of low income families. He also is Vice Chair of the Board of Directors of One Justice, which brings life-changing legal help to those in need by transforming the legal aid system.
Mitch served on the Liberty Hill Board after he and Susan became active in the Pobladores Fund, a giving circle housed at Liberty Hill that invests in organizations that are working throughout the diverse neighborhoods of Los Angeles to advocate for social and economic justice, promote human rights, and mitigate the impacts of environmental degradation. Inspired by her experience with Pobladores, Susan and a handful of friends founded the XX Fund, a women's giving circle that has given more than $200,000 in only three years to groups helping women and girls reach their potential, strive for economic justice, and live free of discrimination and violence.
Susan and Mitch's greatest gift to Los Angeles (and the world) are their spectacular children Nicole, Owen and Ava.