Environmental & Climate Justice
Liberty Hill Partners with L.A. County to Create Countywide Sustainability Plan
This spring, Liberty Hill joined community-based environmental health and justice organizations to host five Sustainability Expos + Fairs with over 370 participants in order to solicit public input on the draft countywide Sustainability Plan that we and our partners helped to create. The plan contains far-reaching goals on critical issues, especially around limiting oil drilling, phasing out fossil fuel consumption and advancing rent stabilization. 

"If we want a more sustainable future, it's critical that the public learn about sustainability and make it a goal we can achieve. Our work at the expos allowed us to have discussions with the public, listen to their concerns and signify why this is important work."
-Alex Ortega, Community Organizer with Pacoima Beautiful

The Sustainability Expos + Fairs provided opportunities for residents—particularly in low-income communities of color—to participate in the creation of the plan. The community gatherings offered activities for the whole family, including environmental education, door prizes, tree giveaways, resource tables, an electric vehicle "Ride and Drive," and access to an energy cost-saving clinic hosted by our very own emPOWER program. emPOWER connects low-income residents to more than 60 energy and money saving programs, helping to improve environmental health, reduce carbon footprints and boost household budgets.

The L.A. County Board of Supervisors is scheduled to vote on the Sustainability Plan later this summer. 

Over the past year, Liberty Hill and our grantees and partners have helped to draft the Sustainability Plan, which is an ambitious project developed by regional government to tackle some of the most urgent issues of our time: climate change, water quality and supply, urban sprawl, housing and transit affordability, food systems, waste reduction and natural resource conservation. To create the plan, we conducted six workshops, covering water, energy, transportation, open space/biodiversity, waste/resource management and equity, and involved more than 250 people from nearly 140 nonprofit groups. 
Our community engagement process ensured that the sustainability plan will address long-standing social, economic, racial and environmental inequities.

Many thanks to our project partners: UCLA's Institute of the Environment and Sustainability and BuroHappold Engineering, and to our grantees: Communities for a Better Environment, East Yard Communities for Environmental Justice, Day One, Pacoima Beautiful and Strategic Concepts in Organizing and Policy Education (SCOPE). We also want to acknowledge and thank Los Angeles County Supervisors Sheila Kuehl, Hilda Solis and Mark Ridley-Thomas, who attended Sustainability Expos in their Districts.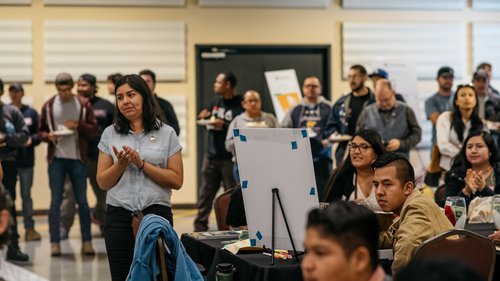 Read on to learn more about recent Agenda for a Just Future updates on Youth Justice and Housing Justice!