COVID-19
Los Angeles Organizers' Virtual Town Hall Takeaways and Next Steps
Earlier this month Liberty Hill convened an L.A. Organizers' Virtual Town Hall that brought together more than 100 organizers and activists across L.A. County to share and strategize around the COVID-19 crisis and how we can best support the needs of our communities on the ground.
Town hall speakers and community members shared valuable insights to help all social justice leaders use this moment to bring people into social movements, and stand in solidarity with the voices of our most impacted populations.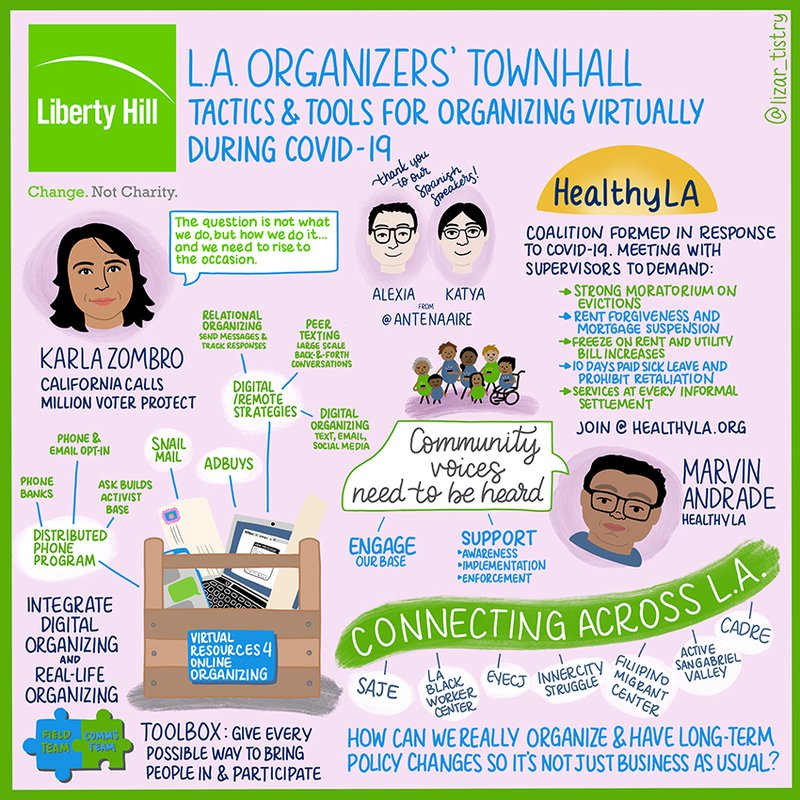 This conceptual art piece was created based on the lively conversation during our virtual town hall or convening.

Karla Zombro, from California Calls: The Million Voters Project, provided us with new insights on integrating digital organizing with the organizing strategies we typically use on the ground, and Marvin Andrade, from LA Voice and the Healthy LA Coalition, shared the story of Healthy LA's formation and how the coalition was able to use the crisis as an opportunity to push for strong worker and tenant protections. 
Community organizers and activists from across L.A. connected to relay immediate needs and concerns of community members and organizations, share tools and resources on virtual organizing, and discuss ways to use this crisis as an opportunity to push for long-term structural changes. 
Over 80% of attendees spoke to the need for training and resources on virtual-base building and leadership development, and Liberty Hill is working hard to meet the needs lifted up by organizers on the call through funding and capacity-building programs