Donor Activism,Donor Spotlight,Philanthropy
Talking Community, Arts and Access with Liz Levitt Hirsch
Liberty Hill is pleased to honor Elizabeth Levitt Hirsch with the Founders Award at our 2018 Upton Sinclair Awards Dinner on April 19. The recognition is given to individuals whose philanthropy embodies the spirit of "change, not charity" and whose exceptional generosity is helping to realize equality and justice for all. As board president of the Mortimer & Mimi Levitt Foundation, Liz Hirsch spearheaded a national effort to transform underused public spaces through music and arts. The Levitt Foundation empowers communities and brings neighbors together through free and culturally sensitive arts programming in places such as L.A.'s MacArthur Park, Memphis, Tennessee, and Arlington, Texas.
The theme of this year's Liberty Hill gala is Justice Begins at Home, a spirit that Liz embodies. She is best known for her ability to connect and inspire people to achieve a shared vision to better our communities, and for directing her life-long passion for the performing arts into a source for positive social change. The Levitt Foundation offers more than free concerts—through a commitment to social justice, it empowers communities to revitalize public spaces, celebrate our nation's rich diversity and inspire joy, hope and community pride.
Liberty Hill chatted with Liz about her upcoming Founders Award honor, her motivations as a donor-activist and her work empowering communities here in Los Angeles and across the nation.
LH: You are being honored with our Founder's Award because of your leadership and demonstration that philanthropy must play a key role in pushing for change that promotes inclusion and celebrates diversity. But what does that mean to you in your own words and how does it feel to be honored with this award by Liberty Hill?
LLH: Receiving this award from Liberty Hill is meaningful to me because it reflects the intention of our work as creative placemaking funders. It puts the work of the Levitt Foundation in the category of social justice. We are about the arts. We are about community. We are about inclusion. We are about diversity.
LH: What do you think informs that understanding for you; what shapes your desire to serve the community?
LLH:  Like the founders of Liberty Hill (Sarah Pillsbury, Win McCormick, Anne Mendel and Larry Janss) who were born into economic privilege, I feel a deep need to give back. 
I also was very lucky. I was born into a family that gave me opportunities simply because of their financial position, social network and education. I'm keenly aware of the inequity of my opportunities versus people who are born in our country into circumstances where families are struggling with budgets and lack of access. The programs of the Levitt Foundation give me a chance to authentically address that disparity and this means the world. 
LH: The theme of the night is "justice begins at home." How does that resonate with you?
LLH:  I was taught by my mother to treat everybody with respect and dignity, no matter their situation. How do you treat the people who can't pull you forward, who can't do something to advance your career or advance your status?  How do you treat people?  That is in the deepest sense of what "justice begins at home" means to me.  It's respecting others. I know a lot about a person by the way he or she treats others.
LH: What are the main programs of the Levitt Foundation?
LLH:  The Levitt Foundation is committed to strengthening the social fabric of our country. As pioneers in the creative placemaking movement working at the intersection of social impact and the arts, we empower communities nationwide, from small towns to large cities like Los Angeles, to transform underused public spaces into welcoming destinations through the power of free, live music. In 2018, we're supporting nearly 500 free Levitt concerts in 26 towns and cities, featuring acclaimed, emerging talent to GRAMMY-winning artists in a broad range of genres.
Our two main programs—permanent Levitt venues and the Levitt AMP program—are community-driven to their core and leverage public/private partnerships to bring the concert series to life. It all begins with a community deciding that they want to take charge of their own cultural destinies by reclaiming an abandoned or underused public space, and working collectively to bring that space to life through arts activation and partnerships.
Permanent Levitt venues, called a Levitt Pavilion or Levitt Shell, are geared to large cities and present 50 free concerts every summer into early fall. We provide seed funding to build or renovate a state-of-the-art music venue, and provide ongoing annual support for the concerts. Each permanent Levitt venue is programmed, managed and supported by a local Friends of Levitt nonprofit partner. Locations include Denver, Memphis, Bethlehem, Pennsylvania, and Arlington, Texas, with more on the way including Dayton, Ohio (opening this summer), Sioux Falls, South Dakota, and Houston. Beyond the free concert series, the permanent Levitt venues are used by other community groups and nonprofits to share their work with the community, so the venue authentically becomes a citywide cultural asset.
Similarly, but on a smaller scale, the Levitt AMP [Your City] Grant Awards is an annual matching grant competition that brings free concerts to 15 small to mid-sized towns and cities each year. It shares many of the same hallmarks as the permanent Levitt program—amplifying community pride, ensuring access to the arts and invigorating public spaces. 
What's incredible is that across the country, no matter the city population, who's on a Levitt stage or the demographic makeup of a community, there are comparable social impacts of the free concert series. I think it has a lot to do with the fact that music is the universal language, so it has the unique ability to cross boundaries and bring people together. When music, high caliber music, is presented outdoors, free of charge, and consistently so that it becomes habit-forming, people of all ages and all socioeconomic backgrounds come together for the shared experience. They're having fun, they're dancing, they're enjoying the music and sense of community with their friends and neighbors, they're having casual conversations with strangers. In this day and age, creating these types of public gatherings where we celebrate our shared humanity is critically important.
LH: How have you seen communities change now that this program is successful? For example, how have you seen the L.A. location change the community?
LLH: There is so much potential for the Levitt program here in Los Angeles because the Levitt venue is located in the heart of our city.  It's in a historic park close to downtown, located in one of the most densely populated neighborhoods of the city which also happens to be more challenged economically, marginalized and in need of high caliber, accessible arts events. MacArthur Park is a vibrant, beautiful place and we are honored to be able to shine a light on it and serve the community by creating a welcoming space for local families and neighbors, as well as attracting Angelenos from all over the city. Levitt Pavilion Los Angeles has served over 500,000 people since opening over a decade ago. What used to be an eyesore for the community has been replaced by a safe, vibrant oasis for families and neighbors. The success of Levitt LA inspired additional improvements to the park from the city, such as new soccer fields, playground, lighted walkways, etc.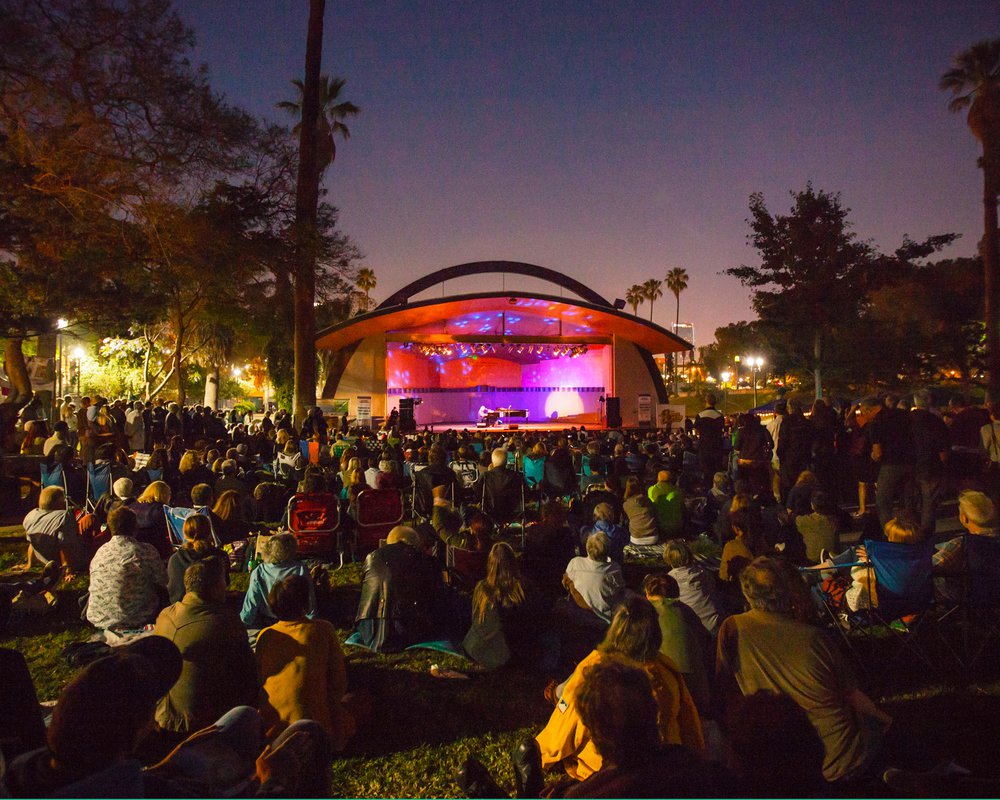 LH: How does that relate to justice beginning at home to you?
LLH:  We live here. In order for a Levitt venue to be successful, it needs to be a community- driven project. We are very proud of the creative placemaking that's happened in MacArthur Park and the ways that the community has embraced the project. When I'm not on the road visiting other cities, I'm at Levitt Pavilion Los Angeles. When I see the whole park full of people dancing, that makes me very happy. It's great to see MacArthur Park full of children and families peacefully enjoying incredible free music under the stars.
LH: Because you're such a great example and leader in this space, what do you say to folks who aren't activists, aren't on the front lines, but want to help to do their part in service? 
LLH:  Listen to your heart.  Listen to your authentic self.  Know what you care about and once you're true to yourself, reach out. Obviously look at LibertyHill.org. Look at your elected officials. If it's education, talk to schools. If it's food justice—just do your research and re-check. But make sure it comes from a place of passion, because that's what's going to drive this. 
LH: How do you feel that your values and the work that you do aligns with Liberty Hill's values and mission?
LLH: I've been a supporter of Liberty Hill for 15 years. Nobody could have been more surprised and thrilled when the invitation to receive the Founder's Award came in from Liberty Hill.  Why? Because the values embraced by Liberty Hill reflect what's in my heart and what's in my intention with each Levitt venue that opens—bringing people together, making music accessible, inspiring hope and joy. I'm so keenly aware of the disparity in our society. Levitt programs empower communities to deliver the promise of a better tomorrow, today.