Agenda for a Just Future,COVID-19,Youth & Transformative Justice
The Fight for Youth Justice Accelerates Amid COVID-19
As the global pandemic reshapes how we all live, youth organizers continue the fight for justice, especially after two youths in Los Angeles County's juvenile halls tested positive for coronavirus this week. The research is clear that it is not safe for children to live in crowded and locked facilities with limited access to medical care and no family visits. Fortunately, building on years of work, organizers are moving the needle. In 2017, Liberty Hill and our community partners set out to reduce the youth incarceration rate by 50%. At that time, Los Angeles County held 1,184 youth behind bars. As of today, approximately 550 youth are in jails in Los Angeles County—a decrease of more than 50% over the past two and a half years. This includes a 30% reduction in the number of incarcerated youth over the past six weeks. 
The goal of Liberty Hill's Youth Justice initiative is to transform and reduce the size of Los Angeles County's youth justice system into a new countywide youth development system focused on prevention. 
Liberty Hill's strategy is to Shrink, Close, and Invest. We know that as we shrink the number of youth entering the justice system and close juvenile halls and prisons, we will free up public funds to invest not just in these young people, but in all children and youth living in underserved, low-income communities of color.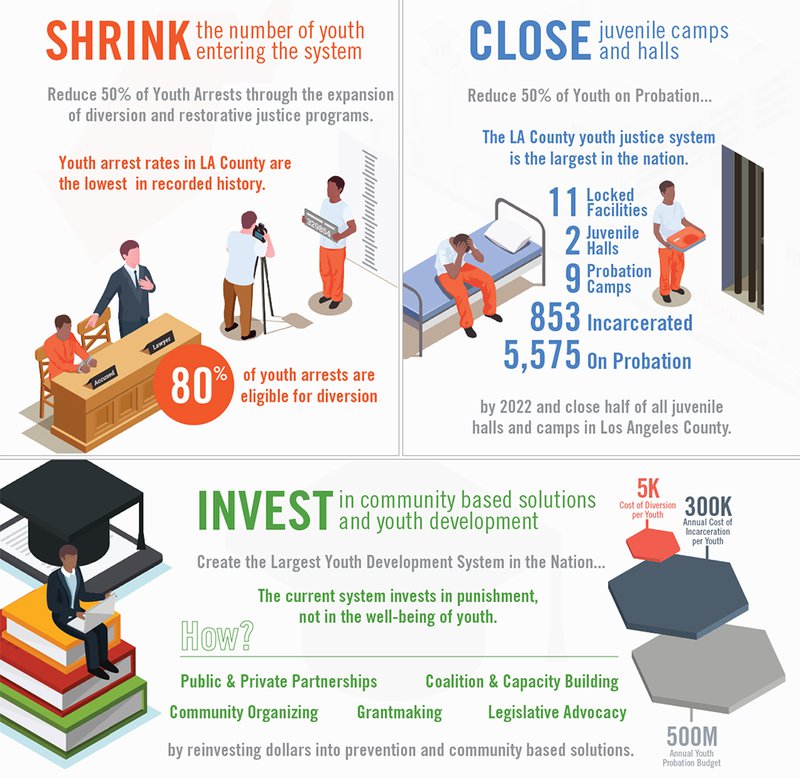 As excited as we are to have reached this milestone, the work continues for the remaining 50%, and the fight is even more urgent due to COVID-19. Youth in the camps and halls are unable to social-distance, lack adequate access to sanitation, are no longer able visit with their families, and are no longer receiving educational instruction or rehabilitative programming. The Los Angeles Times recently reported that a 17-year old boy with severe asthma was denied release by the Los Angeles County Superior Court, despite the Probation department backing his petition. The reason he is behind bars? A simple probation violation. His mother, Dorian Martinez, is terrified as she watches the number of infected staff tick upwards, reaching 16, and the count of kids in quarantine or isolation reaching more than 40.  
Youth organizing groups are getting creative amidst this crisis, and putting pressure on the county and the state through public demonstrations, and legislative and legal advocacy. For example, the Youth Justice Coalition, in partnership with other nonprofits, held a successful car march in front of the downtown courthouse on March 7th to call attention to the injustice of holding kids behind bars during a global pandemic. Their 90-minute motorcade circled three city blocks, displaying banners reading "Detention is Deadly" and "Care not Cages." The group is also holding virtual bi-weekly town halls with county officials, imploring them to send youth home to the safety of their families where they belong.  
On the legal front, two law advocacy organizations, including the Children's Defense Fund-California, asked the California Supreme Court to order the immediate release of youth at the county level, including those that are low-risk and those with medical conditions. The petitioners argue that failure to protect incarcerated youth from a likely COVID-19 outbreak violates the Fourteenth Amendment's due process protections; violates the Eighth Amendment's prohibition on cruel and unusual punishment; violates provisions of the California Constitution; and violates the very purpose and duties of the juvenile court system under California's juvenile court law.
We have also seen community-based organizations, such as those funded by the Ready to Rise Youth Development Initiative – a partnership between Liberty Hill and the California Community Foundation – pivot to meet the needs of young people during this crisis. These groups are providing virtual services, and experimenting with different online platforms to create virtual safe spaces to engage with youth. They are also working overtime to meet the changing needs of their clients by providing internet/hotspot access, food distribution, virtual case-management, tele-therapy, and more.  
During this pandemic, time is of the essence.
More than ever, in all of our respective realms of influence, we need to support our justice partners on the ground and work to send kids home to their families where they belong. And then, when the crisis abates and we have caught our collective breath, we can ask ourselves why we lock up so many kids in the first place, and whether they all need to be behind bars for us to be safe.
Stay tuned for an update on the petition filed with the court and continued progress on releasing the our most vulnerable youth.