Donor Activism,Philanthropy
The March to Progress Continues Through You!
Join Liberty Hill as we fuel the progress that will make Los Angeles a more JUST and EQUITABLE place!
Through a global pandemic that threatened both lives and livelihoods, and a national uprising for racial justice that challenged and ultimately changed hearts, minds, and laws—the fight for social justice has continued. Will you join the movement for change?
Inequality and injustice never take a break. That's why we can't let up in the fight to advance the movements for racial, economic, environmental and LGBTQ justice. We have already made immeasurable progress in our goals to end youth incarceration as we know it, fight for a roof over every head and eliminate toxic neighborhood oil drilling.
Start your fundraiser today to help us support front-line community organizers and activists who are working to implement historic policies in Los Angeles such as the Measure J initiative, which will invest hundreds of millions of dollars in community counseling, mental health services, youth development programs, small businesses, jobs-creation, and affordable housing.
We know we can move the needle even further—for our youth, our communities, and Los Angeles as a whole. If you meet your $1,200 goal, you'll unlock Changemaker Membership and join hundreds of Liberty Hill Donor Activists!
With your support, we can ensure that the March to Progress Continues through Liberty Hill and provide critical funding, training, and capacity building to our community partners leading grassroots organizing for racial justice!
Fundraising Leaderboard
Here is The March to Progress Continues Leaderboard as of May 24th – Sonya Glover maintains a comfortable lead in 1st place raising $690 with 11 supporters.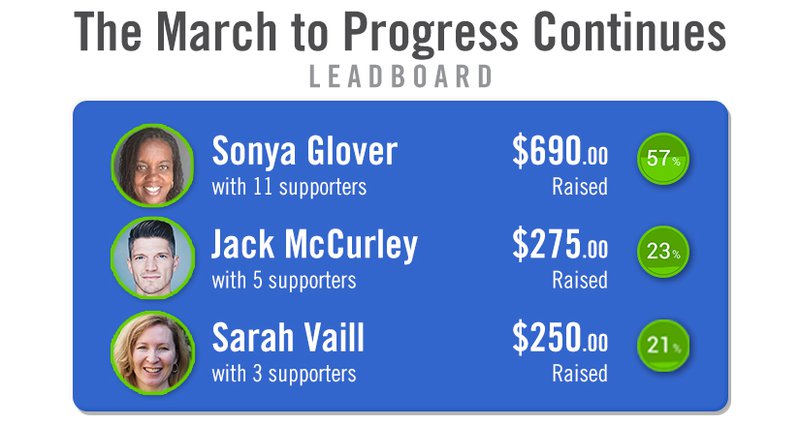 Start your fundraiser today to help fuel a more JUST and EQUITABLE Los Angeles for all!
If you don't want to start a fundraiser today you can make a gift directly to the campaign. The website will be accepting donations through May 30th.
Pro Fundraiser Tips:
Update Profile Picture = 23% increase in page value
Add Page Summary = 36% increase in page value
Send a Personal Email = 173% more donations
P.S. On average, fundraisers will receive a gift for every 4 emails sent. And the average gift is about $100.
If you have questions or would like any support getting started, please do not hesitate to contact us at sfett@libertyhill.org – we are here to help!
Other Ways to Fundraise
All funds you raise will support Liberty Hill's mission, by investing in 100+ grassroots organizations, building power in communities most impacted by systemic oppression, while advancing racial, economic, environmental, and LGBTQ justice across Los Angeles.
Fundraise your way on JustGiving: Create your own custom fundraiser online!
Fundraise on Facebook: Engage your friends on family via Facebook
Fundraise on Instagram: Create a fundraiser and add the link in the bio
We know fundraising is no easy task — to help you with your fundraising, we've created a toolkit with fundraising tips and more. Check it out to help maximize your fundraising potential
Our work to create real systemic change and a more just future is possible because of you.