Thank you for being part of the Liberty Hill Family
And for your passionate support of the fight for equity and justice.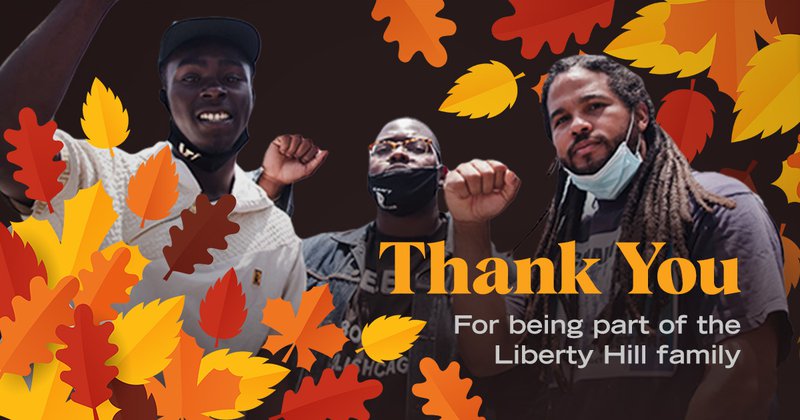 This Thanksgiving, Liberty Hill honors and celebrates the culture and history of all Native and Indigenous People. This means recognizing the holiday's true history and refusing to forget it.
We acknowledge that are on the land of the Tongva/Gabrieleño Nations and we honor and recognize their connection as the first stewards and the original caretakers of this land.
This important context is at the front of our mind as we write to you with our deepest gratitude today. As we prepare to gather either in person or virtually with friends, family and loved ones to give thanks, we want to take a moment to pause and express our sincere gratitude for the entire Liberty Hill community.
Whether you are a grantee partner, community leader, donor activist or a new supporter, you are a key part of the Liberty Hill family and we are so grateful for your belief in our mission!
This past year we have seen some amazing progress in our fights to end youth incarceration as we know it and invest in youth development; fight to put a roof over every head amidst the housing crisis; put an end to the toxic neighborhood oil drilling harming our communities; and so much more.
We know the importance of this work. And we couldn't do it without the support of our beloved community.
So, thank you—for your passionate support of the fight for equity and justice, for your tireless dedication to making Los Angeles the beacon of progress we know it can be, and for your unwavering commitment to a more just society for all.
Thank you.
We know the road ahead and the fights to come won't be easy. They never have been. But that's never stopped Liberty Hill and our partners from continuing the march to progress. We won't stop moving forward. And we're so glad to have you by our side. Onward!
In Solidarity,
The Liberty Hill Team