Fighting to Eliminate Toxic Neighborhood Oil Drilling
Nizgui Gomez & CBE Action
The fight for the environmental future we seek is a marathon, not a sprint. It will require current and future generations of dedicated activists—of all ages—to keep the pressure on interests that seek to maintain the status quo in the face of the devastating effects of climate change on our state and its residents. Particularly during the pandemic, residents exposed to the effects of toxic oil drilling have been more vulnerable to respiratory illness.
In the Harbor region of Los Angeles, adjacent to the third largest urban oil field in the nation, sits the small town of Wilmington. With hundred-year- old environmental regulations gathering dust, local residents continue to bear the brunt of the toxic effects of neighborhood oil drilling—in some instances happening only steps from their front door. This is one of the devastating forms of environmental racism youth activists like Nizgui Gomez and the organizers at Communities for a Better Environment (CBE) are fighting.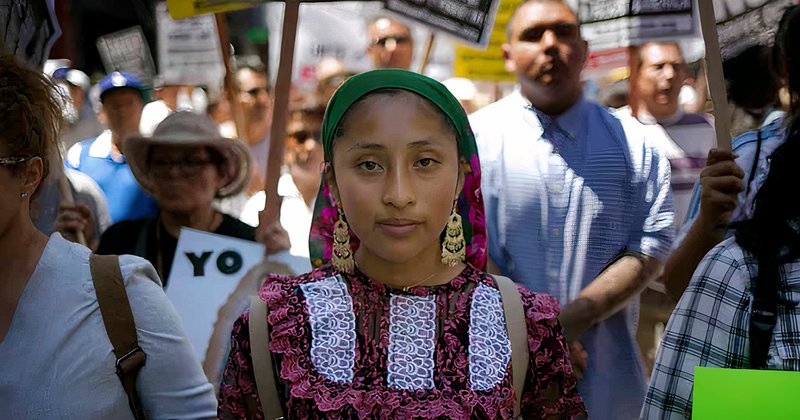 "Our family members are getting cancer, bronchitis, experiencing birth defects and higher levels of asthma. That's not normal," said Nizgui. "That's why our fight to implement a 2,500-foot safety buffer between these drilling sites and our homes and schools is so important. Our lives literally depend on it." 
Nizgui and her family are members of the Zapotecos people, tracing their roots to Oaxaca. She got her start as an activist fighting for the rights of indigenous people like her family. She discovered the work of CBE through a friend of her mother and thus began a new fight to save her community. After attending her first climate march in Wilmington at the age of 15, Nizgui began regularly attending CBE's youth meetings to find out how to get engaged.
Soon she and other youth activists were playing an instrumental role in the Youth for Environmental Justice Lawsuit—marking the first time Black, Brown, and Indigenous youth sued the City of LA for rubber stamping drilling permits without conducting mandatory environmental studies and exposing residents to disproportionate health risks by allowing less-protective rules in their neighborhoods. They were victorious and won the right to new public processes and guidelines for local drilling sites. They also joined forces with the STAND-LA Coalition to fight for the end of neighborhood oil drilling.
Communities for a Better Environment Action Fund (CBE Action)
"The young people are truly what keep me motivated to continue this work. I want to ensure we honor and center these youth leaders who will carry the torch for this movement into the future." – Darryl Sarmiento Molina, Executive Director, CBE
CBE Action turned its attention to civic engagement this past year, launching a program to build power among low-income Black and Brown residents in four Environmental Justice (EJ) Communities in both Southern and Northern California, including Wilmington and the Southeast region of Los Angeles. Liberty Hill provided funds in support of this work designed to engage local residents in positive community change, including building an EJ Voter Block that can engage with candidates on critical environmental concerns before and after elections. They are also working to train residents to educate and advocate through strategic involvement such as in-district visits with local legislators and providing testimony before regional decision-making bodies. In 2020, CBE Action was awarded our very first Environmental Justice Champions Award, presented by our EJ Champion donors, recognizing CBE Action's dedication and commitment to this work.

2020 Victories
Permanent Closure of the AllenCo Oil Site in South LA
LA County Board of Supervisors establishes "Just Transition to Clean Energy" task force
Culver City votes to end toxic drilling in Inglewood Oil Field
LA City Council drafts motion to phase out oil drilling throughout the City

---