Team / Andres Magaña
Andres Magaña
Deputy Director, PR and Community Engagement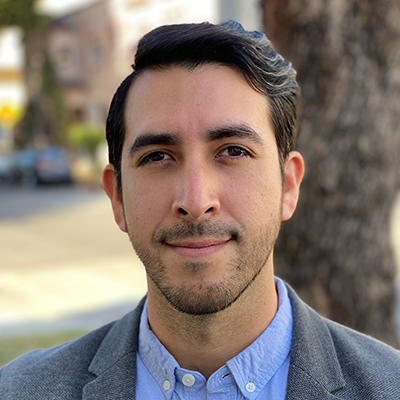 Growing up in an immigrant family as a first generation El Salvadorian American, I have seen firsthand the consequence and impact that injustices and inequity have on marginalized communities. Through my work at the Liberty Hill Foundation and through my personal aspirations, I will continue to lead efforts that uplift communities and provide equal opportunities for political, economic, and social rights for all.
Andres is the Deputy Director of Public Relations and Community Engagement at Liberty Hill Foundation. In this role, he develops and executes media outreach, community engagement, and social media strategies that cultivate meaningful relationships with targeted external audiences—including potential donors, media, and key public officials. He supports Liberty Hill grantees and partners by providing communications training and support to amplify their work. Additionally, he proactively identifies public relations and community engagement opportunities to uplift the Liberty Hill mission.
Prior to joining the Liberty Hill team, Andres served as Director of Community Engagement at The Wall Las Memorias (TWLM)—a local nonprofit organization that provides health and wellness services to the underserved Latinx and LGBTQI2-S communities. Andres served as the liaison to community and corporate partners, representatives of government offices, and various community leaders to garner support for the organization mission and vision. He also spearheaded the organization's robust marketing and branding department.
Andres was a member of the NextGen LGBTQ Emerging Leaders Program (Los Angeles Chapter, Class of 2019). He has also served on the Los Angeles County Care with Pride Community Advisory Board, the UC Riverside Design Thinking Executive Program Advisory Board, and the Cedars-Sinai LGBTQ+ Cancer Community Advisory Board. Andres is a proud first-generation native Angelino and graduated from Loyola Marymount University with a bachelor's degree of Liberal Arts in Political Science. As Deputy Director of Public Relations and Community Engagement, Andres is responsible for developing and executing media outreach, community engagement, and social media strategies that amplify the mission and success of Liberty Hill.