Team / Charlette Wilburn
Charlette Wilburn
Senior Director, People Operations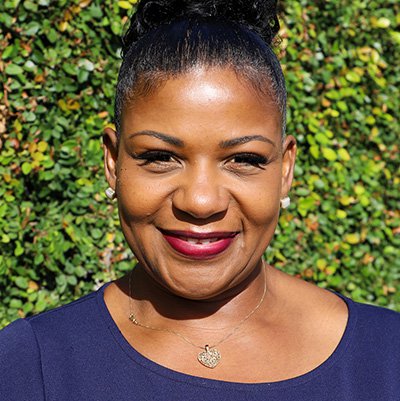 In 1992, I was the mother of a 1-year old black boy when the Rodney King verdict and the Los Angeles uprisings took place. It became paramount that I joined my mother, who was a community activist, in organizing and educating not only the people in my community, but those that policed our communities. Our desire was to create conversations between the police and community members, so that each could see the humanity and commonality in each other as well as to better understand our differences. Liberty Hill's mission to bring change and not charity has brought me back to my roots.
Charlette is the Senior Director of People Operations, and most recently worked with the Academy of Motion Picture, Arts and Sciences, to attract top talent throughout the world to open the Academy Museum of Motion Pictures. She also envisioned and implemented swift changes to shape a more diverse, equitable, accessible and inclusive organization for the Academy in the wake of the #OscarsSoWhite and #MeToo movements. The work that she lead helped to create an entire department dedicated to issues of equity and inclusion for the Academy.
Charlette holds a Bachelor's degree in Liberal Studies, from California State University at Dominguez Hills, as she initially wanted to be a classroom teacher. She instead focused her attention on corporate education and became an expert in learning & development, management training, and has designed custom curriculums aimed at building high performing teams. She has decades of managerial experience in both the financial and insurance sectors.
Charlette is also a business owner (Love Goddess Eyewear), and an active volunteer for I Am My Brother's Keeper and Mothers In Action.