Team / Giselle Armendáriz
Giselle Armendáriz
Program Manager, Capacity Building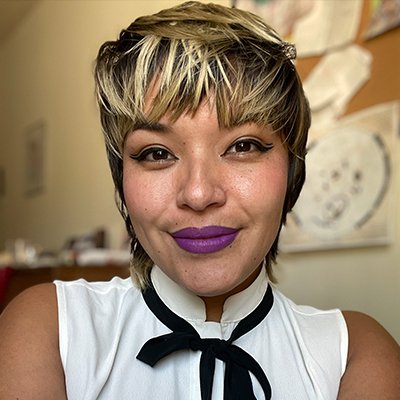 My name is Giselle Armendáriz and I am the proud child of Mexican immigrants. My pronouns are she/her and they/them. I will be serving as the Program Manager, Capacity Building.
I understood the importance of community support and resources early on in my life. Growing up with immigrant parents in the San Gabriel Valley, I did not believe I would ever attend a university because I did not know anyone who went to college. My perspective and future changed when I joined Upward Bound, a non profit that helps low-income and first gen high school students go to college. For the first time, I felt I had a future to look forward to. With this new found hope, also came a conflicting anger at the understanding that others in my community, and in my own family, did not have the same opportunities because of socioeconomic factors and systemic barriers. During this time, one of my brothers was incarcerated as a youth and this was the beginning of the inhumane treatment and discrimination he faced throughout his short life. It was difficult to understand the disparities in my family and community and I sought to understand more through education.
As a first generation student, I clung to higher education as a tool for upward mobility to ensure my parents' sacrifice was not in vain. In my academic career, I centered my research on the disparities facing communities, namely systemic factors such as racist infrastructure. As a graduate student, I engaged in extensive research on several topics including housing insecurity, discrimination facing the LGBTQ community, the marginalization and challenges faced by Indigenous agricultural workers, and the rematriation of land to Native communities in LA and Orange Counties. As a co-chair of the Urban Planners of Color, I shed light on the ways in which the program could incorporate anti-racist practices and curriculum into the program.
I once believed I was "too" queer and "too" brown to achieve meaningful milestones and simply matter in society, but with the support from several mentors and chosen family, the obstacles I faced and witnessed became my motivation to work toward a more inclusive and fair future for coming generations. My intersectionalities carved a path for me that brought me to Liberty Hill. I see myself, my siblings, and my niblings reflected in the communities and organizations we serve. All children, regardless of skin tone and the zip code in which they reside deserve safe and stable housing, a good education, and the freedom to live in their authenticity. I am proud to be a part of Liberty Hill working towards a just future.