The Honorable Eric H. Holder
Upton Sinclair Award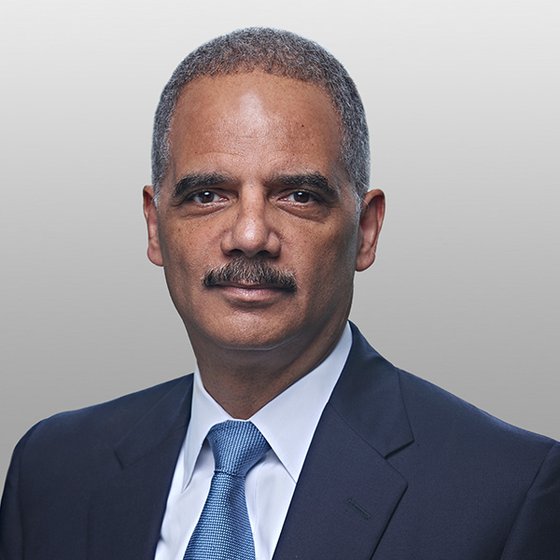 Upton Sinclair Award
Each year, Liberty Hill presents the Upton Sinclair Award to a person of unwavering idealism and vision, whose work illustrates an abiding commitment to social justice and equality.  A person like Sinclair, whose lifelong crusade for equality and justice inspires us even today.
The Honorable Eric H. Holder is a staunch advocate for civil rights and an internationally recognized leader across a broad range of legal issues. Mr. Holder served as the 82nd Attorney General of the United States in the administration of President Barack Obama, becoming the first African American to hold that office and the third longest serving Attorney General in U.S. history. In 2014, Time magazine named Mr. Holder to its list of 100 Most Influential People, noting that he had "worked tirelessly to ensure equal justice."
Born in New York City, Mr. Holder earned his B.A. degree in American History from Columbia University and his J.D. from Columbia Law School. Following law school, he left New York to work for the Public Integrity Section of the Department of Justice for 12 years. He then served as a judge of the Superior Court of the District of Columbia before being appointed by President Bill Clinton as United States Attorney for the District of Columbia, and subsequently, Deputy Attorney General. He was sworn in as the 82nd Attorney General of the U.S. in 2009 by President Obama. During his time at the Department of Justice, Mr. Holder worked tirelessly to advance initiatives to protect the Voting Rights Act, promote criminal justice reform and support marriage equality.
Before his service as Attorney General, Mr. Holder maintained a wide-ranging investigations and litigation practice at law firm Covington and Burling, and he rejoined the firm after his service. He now advises clients on complex investigations and litigation matters including those that are international in scope and involve significant regulatory enforcement issues and substantial reputational concerns. Including his tenure as Attorney General, Mr. Holder has served in government for more than thirty years, having been appointed to various positions by Presidents Obama, Clinton and Reagan.