Fighting to End Youth Incarceration as We Know It
David Turner & Brothers, Sons, Selves Coalition
Inspired by his experience growing up as the only person in his immediate family who had not been incarcerated or otherwise involved with the criminal justice system, David Turner has dedicated his life to uplifting young Black and Brown men and providing opportunities for their success. 
His childhood growing up in Inglewood was marked by the familiar challenges Black youth face in communities across the city—underfunded education, punitive law enforcement methods, and family and friends being funneled into the criminal justice system via the school-to-prison pipeline instead of receiving the support they need to build a better future.
Determined to become a part of the solution, David dedicated himself to changing the material conditions that undergirded the issues he was seeing in his community. He majored in Africana Studies at CSU Dominguez Hills and was introduced to the Social Justice Learning Institute (SJLI) as an intern, where he got his introduction to community- based research, youth organizing, and community-driven programs for boys and young men of color. This experience laid the foundation for the work he now does to transform the systems that are harmful to his community as the Coalition Manager of the Brothers, Sons, Selves Coalition (BSS).
The BSS coalition, which had its beginnings at Liberty Hill, is a thriving group of nine community-based organizations working to end the criminalization of youth of color and influence public policy that invests in the future of young people.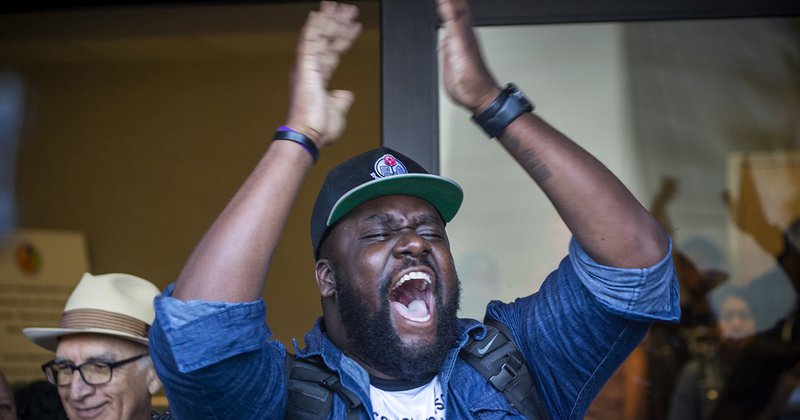 "I don't believe that kids, or anyone for that matter, belong in cages," said David. "My hope for the future of youth development in LA County is that it becomes a regular part of every young person's life—just like school."
This past year, David and the BSS Coalition, along with the Students Deserve organization, played a huge role in the fight to make Black Lives Matter in schools. The win was decades in the making and included an alliance of supporters, including their partners from CADRE, UTLA, Black Lives Matter-LA, and SEIU Local 99.
Thanks to their efforts, in 2020, the board of the Los Angeles Unified School District (LAUSD) voted to cut $25 million from school policing and reinvest the money in funding staff to specifically serve the needs of Black students. It was a tremendous victory for students—and an equally big victory for Liberty Hill's partners who have been working over the past decade to dismantle the school-to-prison pipeline and create effective, proven systems of care that help youth succeed, learn, and thrive.
Students Deserve
"This was one of the largest school police budget cuts and redirections in the country. We know this is not the end of the work, but an important next step in our fight to make Black Lives Matter in schools." – Joseph Williams, Students Deserve
Students Deserve, a Liberty Hill grantee and Rapid Response for Racial Justice Fund recipient, was also a major part of this victory. Along with Black Lives Matter-LA, and the Brothers Sons Selves Coalition, they partnered to help push LAUSD to divest the funds from the LA School Police Department, answering the call to reinvest in youth through services such as counseling and youth development at schools with the highest numbers of Black students. As part of the campaign to push for reform, they launched a survey collecting thousands of responses. The results were powerful and played a vital role in the School Board's action.

2020 Victories
Building the nation's largest youth development system: The LA County Board of Supervisors voted to replace the nation's largest youth justice system with a care-first model emphasizing emotional support, counseling, and treatment managed by a new Department of Youth Development. With an initial public investment of $75 million, this transformation will serve as a national model for shifting from a system rooted in punishment to one rooted in care
The board of the Los Angeles Unified School District (LAUSD) voted to cut $25 million from school policing and reinvest the money in funding staff to specifically serve the needs of Black students 
Measure J redirected more than $250 million of the county's general fund to community investments like affordable housing, mental health services, youth development programs and job creation

---