Bold Vision Initiative
Our Bold Vision Initiative aims to transform L.A. County into a place where youth of color thrive.
Visit Website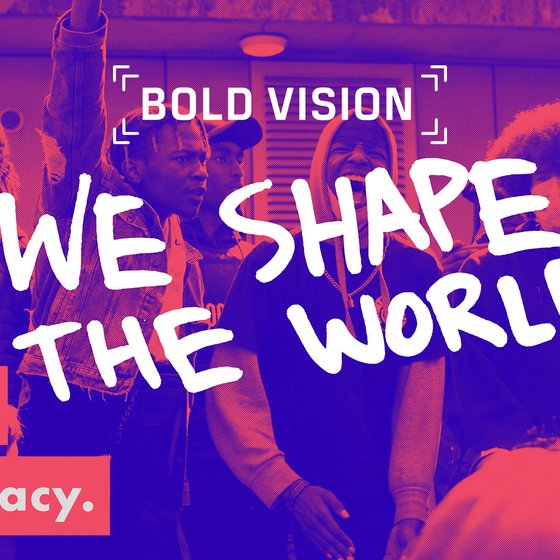 It's time for a Bold Vision for L.A. Youth
After decades of power-building, Los Angeles is ready to reimagine the way in which we empower youth of color and their families. Bold Vision is a multi-sector, multi-year initiative that aims to transform systems within L.A. County to ensure that L.A.'s Black, Native American & Indigenous, Latinx, Asian, and Pacific Islander youth thrive and meet their fullest potential. Liberty Hill is proud to be a partner to Bold Vision, supporting community groups and organizers to end barriers for youth of color in L.A. County.

To learn more about the history of Bold Vision and the community members who are leading this initiative, please click here.

To accomplish this Bold Vision will:
Strengthen Youth Voices
Ensuring that L.A.'s young people are well represented and have power in public decision-making across their full spectrum of identities and geographies.
Advance Systems Change
Drive policies and efforts that more efficiently and effectively move government towards supporting youth of color.
Establish an Infrastructure
Leverage the extraordinary existing capacities within L.A. County, centers youth of color voice, and supports coordination across the range of issues and needs youth face.
A Shared Bold Vision for L.A. Youth
As the grantmaking intermediary for Bold Vision, Liberty Hill will collaborate with community advocates to develop and manage the Bold Vision grant program. Together, we will collaborate to ensure that resources are available to not only respond to urgent needs but to facilitate the design and implementation of transformative systems and strategies.
Funding Board
Engaging community members in grantmaking decisions is at the core of Liberty Hill's legacy and at the heart of those efforts.
Kirk Samuels
Kirk is a dedicated, committed, and deeply passionate community activist and organizer. He currently serves as the District Director of Senate District 28, Senator Lola Smallwood-Cuevas office. Senate District 28 represents roughly 985,000 constituents and the Senator is dedicated to achieving and prioritizing equity and job creation. Before that, he had an extensive career as the Director of Civic Engagement for Community Coalition. He has led over 25 campaigns over his career, contacting over 200,000 Black and Latino voters in South Los Angeles. Kirk has also led teams of community members to advocate for legislative change from Los Angeles to Sacramento.
Charity Chandler-Cole
Charity Chandler-Cole is the CEO of CASA of Los Angeles, Court Appointed Special Advocates for youth impacted by the Foster Care and Juvenile Justice Systems. Born and raised in Los Angeles and having harshly endured its child welfare and juvenile justice systems, she has spent over a decade helping to influence and impact social structures, policies and systems that have negatively and disproportionately impacted and oppressed foster youth and vulnerable communities. Charity works passionately to address the issues and challenges plaguing our communities, women and youth and uses her powerful story of redemption and triumph to inspire people under the mantra, "If Charity can do it, then so can I."
Francisco Covarrubias
Francisco Covarrubias leads our strategic grantmaking and support of the housing justice portfolio at CCF, with the goal of creating meaningful change that will allow the County to increase its production of affordable housing and prevent tenants from being displaced or becoming homeless. Prior to joining CCF, Francisco was the Director of Tenant Organizing team at Inner City Law Center, empowering hundreds of tenant households to speak out against the slum conditions caused by unscrupulous landlords. Previously, he worked on several labor organizing campaigns with workers in the service industry. He brings to CCF deep knowledge of government and constituent services, having worked for a state legislator.
Tavae Samuelu
Tavae Samuelu is the daughter of a pastor from Leulumoega and a nurse from Saleimoa in Sāmoa. As the Director of Pacific Islander Initiatives, at the AAPI Civic Engagement Fund, she designs programs and secures resources to strengthen the capacity of PI leaders and organizations. Tavae was born and raised on Tongva Territory, and credits her time on unceded Ohlone land for her political consciousness. She serves as board for Pacific Islanders in Communications (PIC) as well as a commissioner for the CA 100. During the pandemic, she has learned that her most important title is Aunty Vae.
Karen Mack
Over 20 years ago, Karen Mack created the South LA based nonprofit LA Commons based on a vision of communities where everyone has the access and freedom to express themselves culturally and to tap the power that creativity provides. Since that time, she and her team have worked in neighborhoods across the city, implementing artistic programs that foster interaction, dialogue and collaboration for a better Los Angeles. LA Commons plays a unique role as a facilitator of local engagement in arts and culture as well as in other important issues - health, transportation and education to name a few, giving residents and particularly young people, a voice and an onramp to making positive change.
Maisie Chin
Maisie Chin is the founder and principal of Versal Strategy (Versal), a consulting practice specializing in strategy, process design, facilitation, and group coaching that generates collective purpose and solution seeking. A native Californian and first child of Chinese immigrants, Maisie is a well-trained and seasoned facilitative leader who has spent 30 years in the social justice movement dedicated to eliminating structural racism. Prior to launching Versal, Maisie invested 23 years as the co-founder and eventual founding executive director of Community Asset Development Re-defining Education (CADRE), an independent, grassroots parent organizing center in South Los Angeles, California led by Black and Latinx parents whose mission is to solidify and advance parent leadership so that all children are rightfully educated regardless of where they live.
Professor of Social Geography California State University, Long Beach Department of Geography
Dr. Gary Hytrek, PhD
Professor Hytrek is a community-based researcher trained in urban political economy whose research focuses on movement building and the potential to generate meaningful spaces of participation and self-determination. His policy research is driven by questions connected to social justice and human wellbeing, including positive youth development, housing affordability, workplace conditions, and participatory democracy. Hytrek has 25 years of experience conducting community-based research in Costa Rica, South Georgia, and in Los Angeles County. Hytrek founded La Escuela Bilingüe Para Los Latinos, an entrepreneurial literacy training program in South Georgia, and more recently co-founded the Long Beach Coalition for Good Jobs and a Healthy Community.
Liberty Hill is proud to be a partner to Bold Vision because it is flipping the balance of power in Los Angeles. BIPOC youth need to be at the center of discussions about our future—this is the only way that we can transform systems of harm into systems of care so that youth can thrive.
Senior Vice President of Programs