Donor Activism,Philanthropy
Transformative 2022: Ring in Your New Year of Giving Webinar Series
Liberty Hill kicked off the new year with its "Transformative 2022: Ring in Your New Year of Giving'' Webinar Series. Our recent series provided opportunities for donors to explore: creating a giving plan, legacy/planned giving, trust-based philanthropy and black equity principles, and understanding nonprofit financial health. Thank you to all who joined us for this series and if you couldn't, the recordings are now available.
Liberty Hill offers a variety of services to maximize our donor activist communities' philanthropic goals, while providing in-house expertise on the landscape of social change nonprofits and strategic grantmaking practices. Our Donor Advised Funds (DAFs) are a crucial component of Liberty Hill's laboratory of social change philanthropy, offering opportunities to fund new and innovative models for empowering the most oppressed communities and supporting systemic change, while managing our donor's philanthropy efficiently in one place. To keep it simple for you, our grants and finance team perform the due diligence and grant disbursements on your behalf, while our advisors provide expert one-on-one philanthropic advising to help you reach your social impact goals.
To learn more about our Donor Advised Funds, please email advancement@libertyhill.org.
Webinar Highlights
New Year's Revolutions Making Your Giving Plan
Trust-based Donor Practices
Operate from a place of trust

MYGOD (multi-year general operation dollars)
Let go of control and perfection (avoid micromanaging)

Practice being trustworthy

Be open to ask & transparent about your decision-making
Communicate and follow through on commitments

Get involved (not just as a donor)

Spread the word
Fundraise and leverage resources
Ask what's most helpful
To download North Star Fund Giving Plan workbook and templates, please view event slides here.
---

Disruption with Love: Practicing Trust-based Philanthropy and Black Equity Principles
Black Equity Principles for Philanthropy
Truth: Acknowledgement and honesty about the need to equitably shift the power relationship between black and white populations
Strength: Strong infrastructure and intentional public and philanthropic investment
Strategic Disruption: Immediate bold action, stepping outside of familiar and traditional comfort zones, and committing to the long haul
Love: Honoring the inextricability of our shared humanity
---

Leaving a Legacy: Getting Started on Planned Gift
Income Tax Charitable Deductions: Limitations on how much you can deduct:
Understanding Nonprofit Financial Health: Tips for Reading a Form 990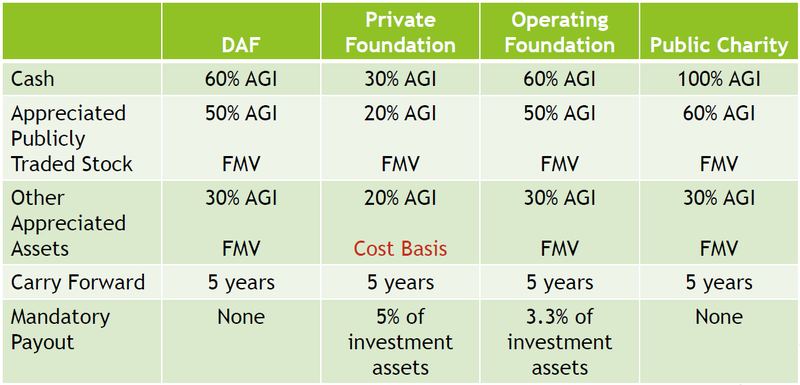 ---

Indicators of Nonprofit Financial Health: Tips for Reading a Form 990
What Is the IRS Form 990?
IRS Form 990 is a nonprofit's annual tax return
IRS revised the form to share more of the story of an organization: mission, financials, key programs, employment policies, leadership, compliance, types of revenue, contributors, and lobbying
Remember:

The most recent Form 990 available for an organization is typically 1-2 years in the past. It's due to the IRS 6 or 11 months after the close of the org's tax year.
Review it for a snapshot of where the organization has been
Form specific questions you may still have about where they are today
Fiscal sponsorship: only the sponsor's 990 will be available
Indicators of financial health can reflect the blindspots or inequities of philanthropy