Team / Jordan Haynes
Jordan Haynes
Advancement Coordinator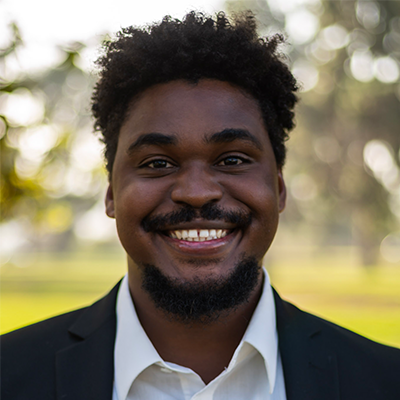 Growing up a queer, black male in a predominantly white, conservative atmosphere, I was hyper aware of prejudice and injustice as obstacles to be navigated in life. My conviction is that justice is an irrevocable human right, but the reality is the denial of justice occurs every day and although injustice threatens everyone, to many it is a matter of survival. Fighting for what is right is always worth it, and I am honored to be a part of an organization that recognizes the identities and plights of all Angelenos, and strives to change the communities we call home.
Jordan is the Advancement Coordinator at Liberty Hill Foundation. In this position, Jordan supports Liberty Hill's donor engagement and fundraising efforts.
Jordan lived for 2 years in Southern China where he engaged in missionary work throughout Southeast Asia. While in China, he led a team of volunteers in community building by connecting local students and young professionals to volunteer opportunities. In returning to the states, Jordan began working in the non-profit fundraising field because he was drawn to storytelling and advocacy. Jordan also works with church congregations to engage in social justice conversations as meaningful leaders in their communities instead of reluctant bodies to change.
Jordan is a graduate of California State University, Long Beach with B.A. in Global Politics and a minor in Chinese Studies. Most recently, he completed a graduate certificate in Nonprofit Management: Fundraising and Development from UC San Diego. When he is not working, Jordan enjoys traveling with his wife and dog, social events, ultimate frisbee, frisbee golf and musical theater.