Team / Julio Marcial
Julio Marcial
Senior Vice President of Programs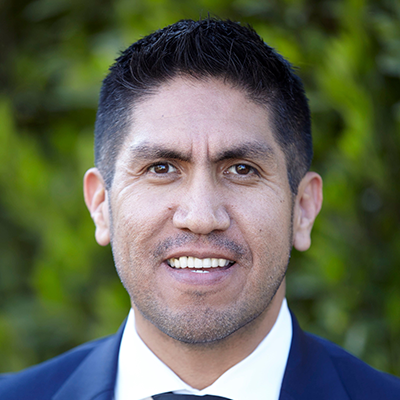 It is not difficult to see that the U.S. justice system does not work as well as it could; some would argue it does not work at all. I have seen firsthand the ineffectiveness and collateral consequences of the current system and the damage it causes to the people caught in the system. Those "people" I refer to are my brother, sister, nephew and niece. More difficult than acknowledging a problem, especially in this area, is figuring out what to do about it. My goal is to amplify the voice of the people most impacted, and to position them as reform leaders, which is a central tenet to the work we do here at the Liberty Hill Foundation.
Julio Marcial is Senior Vice President of Programs. In this capacity, Marcial oversees foundation-relations and strategy; partnerships with government and other sectors; and oversees public policy, research and evaluation. In addition, Marcial guides the Foundation's youth and transformative justice portfolio, including the provision of grant-making, network building, public policy and capacity building supports, which are focused on reducing the size of Los Angeles County's justice system and establishing a human-focused approach to justice system engagement that truly prioritizes "care first, jails last."
Julio has significant philanthropy experience, beginning his grant-making career in 1998 at The California Wellness Foundation, a $1 billion health equity-focused foundation in Los Angeles. Most recently, Julio served as a Program Director, where he managed a combined grants portfolio of more than $60 million focused on criminal justice, public safety, and other public health issue areas.
Active in the youth justice field, Julio is an appointed member of the Juvenile Justice Standing Committee of the California Board of State and Community Corrections, and the Executive Standing Committee of the California Youth Reinvestment Fund, which provides cities and counties with $37 million in funding for community-based services to divert youth from formal justice system involvement. He is a 2014 American Express/Independent Sector NGen Fellow and a founding member of the Southern California Latino Giving Circle, which has provided more than $130,000 to immigrant-serving nonprofits. Currently, Julio serves on the board of directors for InsideOut Writers and Represent Justice. Previously, he was on the board for the All For One Youth Mentoring Program, the Los Angeles Music and Art School, Hispanics in Philanthropy, as well as the Los Angeles County Commission for Children and Families. Julio is also a contributor to the new book, "If We Want to Win," published by the New Press, which brings together 24 leading figures who propose a collective blueprint for moving forward to a more inclusive and just democracy across the United States.
Marcial earned a bachelor's degree in sociology from the University of California, Santa Barbara, where he was awarded an American Sociological Association fellowship to study racial and ethnic disparities in the California juvenile justice system. He has also held a graduate fellowship through the Committee on Institutional Cooperation at the Rackham School of Graduate Studies at the University of Michigan, Ann Arbor, where his research work focused on the importance of a multidisciplinary approach to addressing childhood exposure to violence.