Agenda for a Just Future,Economic & Housing Justice
Stay Housed L.A. Legal Clinic-Bell Gardens
This month the Stay Housed L.A. team held one of their largest community events of the year in the city of Bell Gardens, which recently passed a permanent rent stabilization ordinance.
The event drew nearly a hundred interested community members for workshops and a legal clinic. Our partners at Communities for a Better Environment (CBE), East Yard Communities for Environmental Justice (EYCEJ), ACCE, SAJE, Pomona Economic Opportunity Center, Inquilinos Unidos, and California Latinas for Reproductive Justice joined us for city-wide canvassing outreach as well. Thanks to attorneys from the Legal Aid Foundation of Los Angeles, Inner City Law Center, and Community Legal Aid of Southern California, we provided counsel and advice to nearly 50 households. The City of Bell Gardens also commissioned a Bell Gardens billboard to help spread the word about the event giving the program its first billboard plug!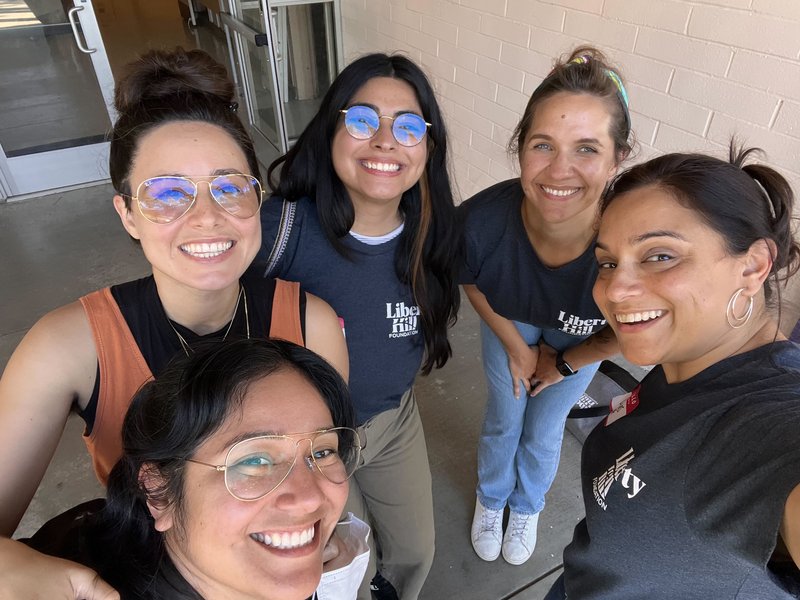 But the reason so many people attended Saturday's workshop and clinic speaks to a difficult, darker reality facing many low-income tenants. Families are managing rising rent and electricity costs along with job instability. These concerns were evident among the tenants the Liberty Hill team assisted during the workshop and clinic. Liberty Hill's housing team provided direct support to tenants throughout the day. Jessica Prieto, Program Manager for Public Partnerships, supported limited English-speaking tenants managing rising rent, food, and daily living costs without being able to access safety net support due to their immigration status. Liberty Hill's Vice President of Public Partnerships, Almas Sayeed, coordinated and staffed Saturday's clinic and provided legal counsel to tenants facing the complexities of eviction, job loss, and financial uncertainty. Almas mentions that "tenants need guidance about their rights and depending on where they are in the eviction process, some basic legal support to avoid eviction and homelessness."
Our Housing Justice Deputy Director, Jessa McCormack, worked with lead organizers from CBE and EYCEJ to provide food, snacks, technical assistance, and a listening ear to tenants as they waited to meet with an attorney. Jessa remarks "eviction filings are rising to pre-pandemic levels. Low-income communities of color across our county are being devastated by eviction and displacement. Stay Housed L.A. provides the knowledge tenants need to navigate their eviction, with the goal of keeping people housed whenever possible. But at the end of the day, our greatest asset is the community our partners provide to tenants facing one of the scariest moments of their lives. Tenants need to know they are not alone."
Through partnerships like this one, Liberty Hill and our partners are fighting to keep L.A. residents housed and ensure they know their rights.